ManoVita = Sean de Koekkoek
Mijn motivatie is mijn familie, mensen helpen, reizen, en yoga. Hieraan ontleen ik de betekenis van mijn leven. Bij massage komen al deze aspecten bij elkaar.
Mijn vader (chiroprator) was mijn voorbeeld: hoe hij anderen kon (aan)raken, hoe wonderbaarlijk het is om anderen te helpen en op deze manier in de wereld te staan. Ik leef pas echt wanneer ik in aanraking ben met anderen.
Massage is voor mij eigenlijk niet 'werk' maar telkens weer een ervaring dat ik met iemand deel. Mijn wens en doel is dat wij er beiden door groeien.
Not a spa experience
(vertaling volgt binnenkort)
I'm not going to beat about the bush: my massage sessions are fairly expensive. Why?

At ManoVita massage, I do not offer a spa experience. Neither do I view my work as simply 'manipulating flesh' (which I've been asked to do before). I respect my work and your body too much for that.
I've applied for work at a spa before and found it lacking in true connection. I want to get to know you and your body. At times I am faced with new issues or complaints that I don't know enough about, and then I study further and explore the best approach. But I don't only focus on the specific problems or discomfort at hand. If you grant me the time (longer session or treatment plan) I will do my best to find out how to adapt my treatment to respond to the 'larger picture' of what you do and have done with your body. Does your work require that you sit most of the day? Do you often lift heavy objects? What do you do to relax during time off? What accidents have you had, what medical issues in the past, etc? But above all: what is your stance in life? All of these things play a role in how your body and my massage take shape.
A mindful approach takes time
As I said, do not expect a spa experience with me. For me, it feels as if the client and the spa therapist are both doing their best to ignore or forget the world and their place in it. It's as if a spa offers a dream state, a moment in time that has nothing to do with your actual life or body. Many independent massage therapists try to replicate or approximate this experience in their (home) treatment rooms. Of course, there's a time and a place for this, and if that's what you're looking for at the moment, then this makes total sense.

But it's simply not what I do. I want it to be real, right here and right now. I want to feel the truth of the moment. This is why mindfulness is not merely a trendy thing I've attached to my massage. It underlies my whole approach.

Mindful bodywork takes energy and especially quite a bit of time. Even if you want your massage to fit in somewhere between other important issues of your day, I hope you will try to approach this time together as significant. Ideally, my hope is that my bodywork is experienced as the foundation of your day(s) - not simply as a way to deal with a problem, but as a process that helps other things in your life make more sense.
(vertaling volgt binnenkort)
I was born in Zambia and lived in the United States and the Netherlands for many years. I come from a family of chiropractors and therapists who focused on stimulating the self-healing abilities of the body. 'Alternative' and holistic approaches to discomfort, illness and health, and especially the importance of hands and touch in healing, have always been a part of my life.  
I studied as a literary theorist and philosopher and worked as a scholar and English teacher at various universities and schools (in the Netherlands, Turkey, and the United States). Several years ago, I made a return to the body and the world of healing and decided to make massage and mindful living the path of my life and work. 
My work as a scholar and teacher has taught me to be open to the many ways of approaching a single issue, to be both critical and innovative, and to use the insights of the mind and modern science along with ancient techniques of those who have long understood the  regenerative potential of the human body so often neglected in today's rushed lifestyle. 
​
My commitment and adventure are to always learn more and to try to incorporate a variety of insights and effective techniques within the "Down-to-Earth" therapy that I continue to develop.
During the 'lock downs' due to the Covid-19 pandemic (2020-2021) I decided to bring my general theoretical and anatomical knowledge and my relaxation and intuitive massage practice to a higher level. One way I did this was to follow a wonderful intensive training in the Netherlands and Spain called Alchemy of Touch™, developed by Tapesh Paradiso and Anouk Devi over many years.
Alchemy of Touch™ is a complete massage and bodywork method that involves a blend of some of the most beautiful and effective massage and bodywork techniques. As Tapesh and Anouk put it:
/** * @var $module \Ucraft\Module */ ?>
"Alchemy of Touch is a dynamic & poetic form of transformational bodywork [...] It is designed to elevate massage, bodywork and healing to a new level by harmonizing both musculoskeletal and energetic techniques from many different Eastern and Western modalities."
A crucial aspect of Alchemy of Touch is the 'fluid touch' technique. Again in the words of Tapesh Paradiso and Anouk Devi: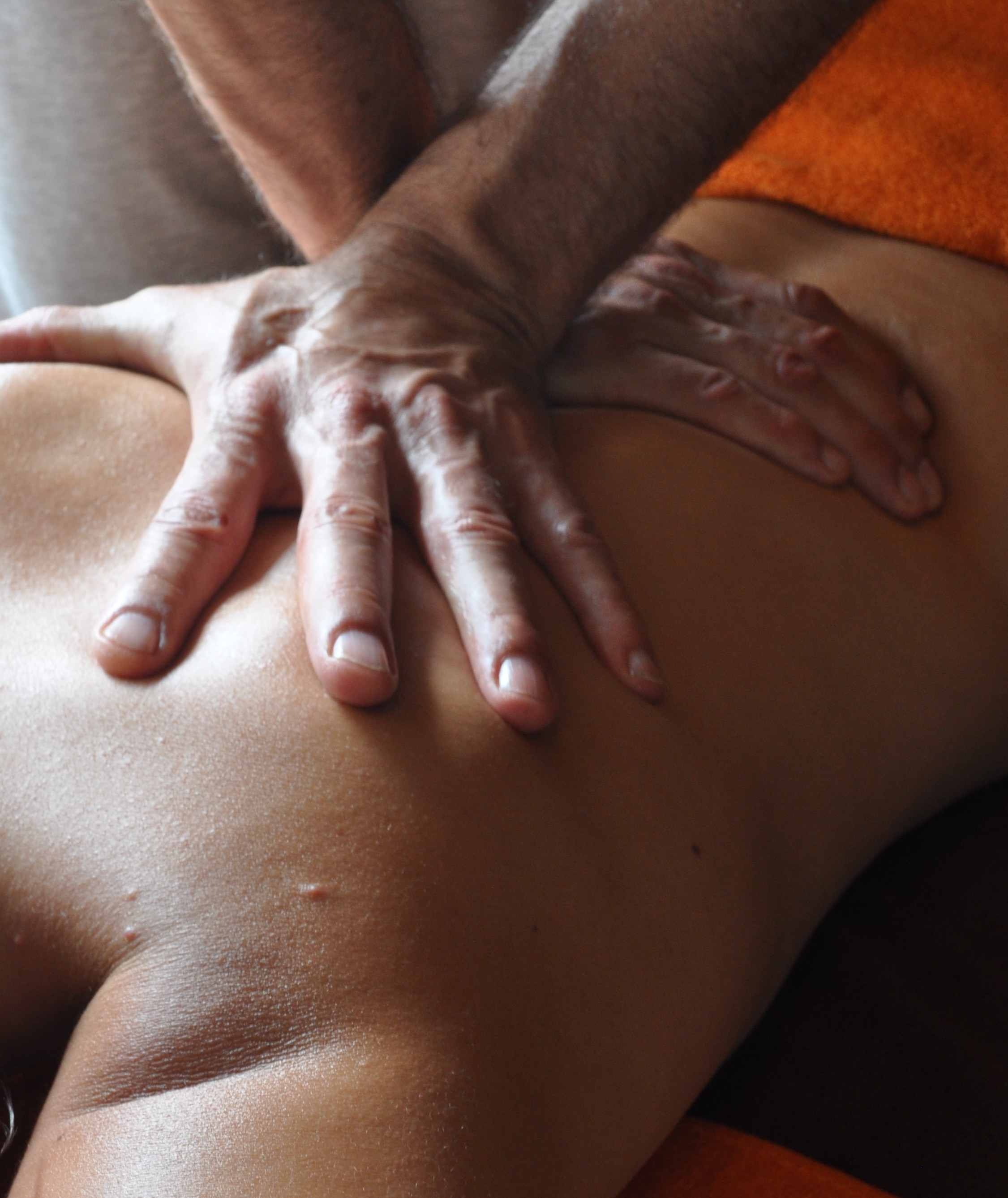 /** * @var $module \Ucraft\Module */ ?>
"the technique of 'Fluid Touch' is a dynamic process of changing speed and pressure, and playing with tightening and letting go. Squeeze, release, wavelike movements and various other techniques stimulate and circulate the fluidity of the body. [...] Fluid Touch naturally relaxes, rejuvenates, restores and refreshes."
Fascia Bodywork
Meer tekst en vertaling volgt binnenkort
The Fascia Bodywork I offer certain clients (Re-move)  is a personally developed modality of myofascial massage and excersise routines inspired in part by the Structural Integration method (otherwise known as 'Rolfing') which is a rigorous form of bodywork developed by Ida Rolf in the 1970's,  and the Anatomy Trains™ method developed by Tom Myers. Importantly, I adopt a more gentle approach of long-form strokes, stretches and training that are not equivalent to either of these methods.
There are many ways to treat the structure of the human body and there is growing interest in the role of fascia in this regard. The modalities mentioned above (as well as Myofascial Release and yoga therapy, discussed elesewhere) attempt to affect the way the fascia can cause pain and/or restrict our movement. I continue to develop bodywork techniques that help relieve issues commonly related to the fascia and the posture or stance of the body. More on this soon
I have been studying mindfulness & yoga (not just the asanas, but the larger 'attitude' of yoga) for several years now. Yin yoga, especially, is central to my fascial bodywork.
I am also currently enrolled in the Yin Yoga Teacher Training at De Nieuwe Yoga School in Amsterdam. 
more on this later...
I first experienced the wonderful combination of massage and yoga through an introductory course given by Sanne Theben Terville at Mood massage in Amersfoort. Since then, I have been developing my own techniques that combine massage with yin and restorative yoga.
The effect of combining (yin)yoga and massage is felt at the deeper myofascial level. Fascia is a remarkable tissue between muscles and bones that essentially holds the body's structure. Combining yoga and massage, I am able to help restructure and retrain this tissue, and thus also the overall structure, posture and disposition of the client. 
As you grow older, you discover that you have two hands, one for helping yourself, the other for helping others.
Website door Sean de Koekkoek. Geen stock fotos! Dit zijn mijn handen en mijn dochter! Auteursrechtelijk beschermd.